Special Story Time with Lucy Margaret Rozier
Lucy Margaret Rozier will visit City Lights Bookstore for a special story time on Saturday, November 14th at 11 a.m. She will read her picture book Jackrabbit McCabe & the Electric Telegraph. With his extra-long legs, Jackrabbit McCabe can outrun anything on the American frontier: horses, trains, and even twisters. Everyone in the town of Windy Flats always counts on Jackrabbit's speed when a message has to get out fast. Then something new comes to town: the telegraph, which can send messages with the speed of electricity. At first, no one believes the newfangled contraption can deliver a message quicker than Jackrabbit. . . but in a race between man and machine, who will be left in the dust?
Event date:
Saturday, November 14, 2015 - 11:00am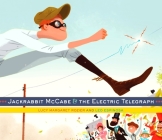 $17.99
ISBN: 9780385378437
Availability: We can probably get this title but the price is subject to change.
Published: Schwartz & Wade - September 8th, 2015
---
Download Audiobooks
We've partnered with Libro.fm to bring you a top-notch option for digital audiobooks. Take a look at our large catalog of recorded books at https://libro.fm/citylightsnc