Rainbow Valley (Anne of Green Gables #7) (Compact Disc)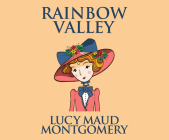 $39.99

No new copies on our shelves but maybe in used, now or arriving soon. Ask us.
Other Books in Series
This is book number 7 in the Anne of Green Gables series.
Description
---
After a trip to London, Anne Blythe learns that a new minister, John Meredith, has arrived in Glen St. Mary. Soon, Anne's six children become friends with the four Meredith children who, having recently lost their mother, have a reputation for running wild. The children all meet and play in a hollow called "Rainbow Valley," where they begin to concoct plans for protecting their orphaned friend Mary and finding a wife for the widowed minister. The seventh of nine books in the Anne Shirley series, Rainbow Valley was published in 1919 and was the fifth book to feature the beloved protagonist from Anne of Green Gables.
Download Audiobooks
We've partnered with Libro.fm to bring you a top-notch option for digital audiobooks. Take a look at our large catalog of recorded books at https://libro.fm/citylightsnc