Long Light (Legacies of Arnan #3) (Hardcover)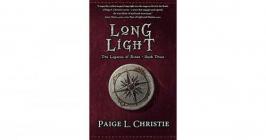 Other Books in Series
This is book number 3 in the Legacies of Arnan series.
Description
---
Long Light

Storms sear over the plains of Arnan, blanketing the trade town of Melbis in silt and suffering. In a land mostly blind to its history, truth has awakened, with dire consequences.
Kilras Dorn spent decades seeing what others do not. Not even those closest to him imagine how many secrets he carries. The long road of his life has demanded both resilience and silence. As hard lessons built toward wisdom, the most important thing he learned was also the most difficult.
Patience is not born.
It is earned.
But Shaa, mightiest of Draigon, has fallen to a Draighil blade, and the secrets of generations are set to peel away like the bark of a birch tree. Now, Kilras's reticence no longer has value, for the full depth of his knowledge is needed in the fight to come.
Download Audiobooks
We've partnered with Libro.fm to bring you a top-notch option for digital audiobooks. Take a look at our large catalog of recorded books at https://libro.fm/citylightsnc