I Can't Find My Whatchamacallit (Paperback)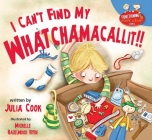 $9.95

No new copies on our shelves but maybe in used, now or arriving soon. Ask us.
Description
---
Cletus and Bocephus are cousins, yet they are nothing alike. Extremely creative Cletus, can't find anything in his room. He is constantly losing things and is very disorganized and messy. Bocephus, on the other hand, is the most organized, uptight person on the planet. If Bocephus ever misplaces anything... he totally freaks out After Cletus mom refuses to let him play with Bocephus until his room is cleaned, Bocephus steps in to help out his disorganized cousin.
Cletus... There's a home for everything.
Every whatchamacallit has its spot.
Let's sort through your stuff and put it where it goes.
I'm organized... Cletus you're not
This storybook is the first in the Functioning Executive book series. It highlights the importance of being organized in a creative, applicable way. It also spotlights the unique differences and strengths that live in all of us. This book will help teach children to understand, develop, and apply organization a vital executive function skill. Children who possess effective organizational skills can learn to manage not only daily responsibilities, but can also learn how to effectively plan ahead.
About the Author
---
Julia Cook, M.S. is a national award-winning children's author, counselor, and parenting expert. She has presented in thousands of schools nationally and internationally, regularly speaks at education and counseling conferences, and has published children's books on a wide range of character and social development topics. The goal behind Cook's work is to actively involve young people in fun, memorable stories and teach them to become lifelong problem solvers. Inspiration for her books comes from working with children and carefully listening to counselors, parents, and teachers, in order to stay on top of needs in the classroom and at home. Cook has the innate ability to enter the worldview of a child through storybooks, giving children both the what to say and the how to say it.
Download Audiobooks
We've partnered with Libro.fm to bring you a top-notch option for digital audiobooks. Take a look at our large catalog of recorded books at https://libro.fm/citylightsnc