Three Graves Full (Compact Disc)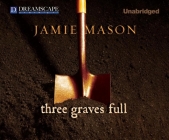 $59.99
No new copies on our shelves but maybe in used, now or arriving soon. Ask us.
Staff Reviews
---
This debut is a searing, psychologically rich examination of a mild-mannered murderer falling in slow motion into a pit of his own devising.
— Chris
February 2013 Indie Next List
---
"Three Graves Full gives us a fresh, entertaining twist on the murder mystery genre. A coward can snap if pushed too far, which is why Jason Getty has a body buried in his backyard. This is stressing him out so much that he has to hire a landscaping crew to deal with his lawn -- and they are the ones who find a different body in his flowerbed, not the one he buried. The police investigation turns up a third body, and from there on this tightly plotted, suspense-filled tale twists and turns like the country roads of its setting. A great read!"
— Carol Schneck Varner, Schuler Books & Music, Okemos, MI
Description
---
More than a year ago, mild-mannered Jason Getty killed a man he wished he'd never met. But just as he's learning to live with the undeniable reality of what he's done, police unearth two bodies on his property - neither of which is the one Jason buried. Jason races to stay ahead of the consequences of his crime, and while chaos reigns on his lawn, his sanity unravels, snagged on the agendas of a colorful cast of strangers. A jilted woman searches for her lost fiance, a fringe dweller runs from a past that's quickly gaining on him, and a couple of earnest local detectives piece clues together - all in the shadow of a dead man who had it coming.
About the Author
---
Jamie Mason was born in Oklahoma City, but grew up in Washington, D.C. She's most often reading and writing, but in the life left over, she enjoys films, Formula 1 racing, football, traveling, and, conversely, staying at home. Jamie lives with her husband and two daughters in the mountains of western North Carolina.
Download Audiobooks
We've partnered with Libro.fm to bring you a top-notch option for digital audiobooks. Take a look at our large catalog of recorded books at https://libro.fm/citylightsnc