The Sunsets of Miss Olivia Wiggins (Hardcover)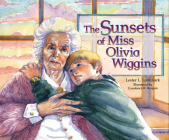 Description
---
A poignant tale of an elderly nursing home resident who seems to live in a world of memories, from award-winning author Lester L. Laminack.

Although Miss Olivia is unable to respond and doesn't always seem to notice her family, her daughter Angel and grandson Troy know better. They know that Momma Olivia has an inner life filled with beautiful memories.

Anything from a stunning sunset to the mention of her porch swing can remind her of her past, when she was just a little girl out on the farm with her papa or, more recently, at a birthday party shared with her daughter. Although she can no longer do the things she used to do or communicate her thoughts, she's still the Momma Olivia they know and love.

In tender terms children can understand, Lester L. Laminack gives voice to the seldom discussed tragedy of watching a loved one age and slip into the past. Constance R. Bergum's delicate watercolors softly express the love that holds a family together during times of hardship.
About the Author
---
Lester L. Laminack is a specialist in children's literacy and professor emeritus at Western Carolina University. Laminack has written numerous books and articles for educators in addition to his picture books, and he is a sought-after speaker at professional meetings and reading associations nationwide. He lives in North Carolina.

Constance R. Bergum grew up in Montana and received an MFA in illustration from Marywood University. After a career as a graphic designer, she began illustrating children's books. She lives in Montana.
Praise For…
---
"Through this story readers will be reassured that older people can have a full inner life and will understand the importance of visiting them."—School Library Journal

"Realistic watercolors flow gently between present and past in this tender depiction of a life well lived, which speaks to the value of maintaining loving relationships, even when they are altered by Alzheimer's disease."—Booklist

"Moments of real eloquence. . . . The book provides an unusually empathic look at the reality of aging. . . . Children perplexed or upset by their own visits to deteriorating elders may find this book helpful and even consoling."—Publishers Weekly
Download Audiobooks
We've partnered with Libro.fm to bring you a top-notch option for digital audiobooks. Take a look at our large catalog of recorded books at https://libro.fm/citylightsnc