Anne's House of Dreams (Anne of Green Gables #5) (Compact Disc)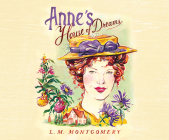 $39.99

No new copies on our shelves but maybe in used, now or arriving soon. Ask us.
Other Books in Series
This is book number 5 in the Anne of Green Gables series.
Description
---
In the fifth book in the series, Anne's own true love, Gilbert Blythe, is finally a doctor, and, in the sunshine of the old orchard among their dearest friends, they are about to speak their vows. Soon, the happy couple will be bound for a new life together in their own dream house on the misty purple shores of Four Winds Harbor. But a new life means fresh problems to solve-and fresh surprises. As Anne and Gilbert begin to build that new life, some of those problems and surprises come in the form of their new neighbors: Captain Jim, the lighthouse attendant with sad stories about the sea, Miss Cornelia Bryant, the direct woman who still manages to speak from her heart, and Leslie Moore, the tragically beautiful girl who intrigues Anne...
Download Audiobooks
We've partnered with Libro.fm to bring you a top-notch option for digital audiobooks. Take a look at our large catalog of recorded books at https://libro.fm/citylightsnc