The Legend of Zelda: Breath of the Wild-Creating a Champion Hero's Edition (Hardcover)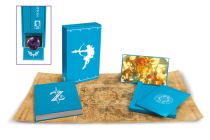 $126.49

No new copies on our shelves but maybe in used, now or arriving soon. Ask us.
Description
---
Dark Horse honors Link, the chosen hero, with the Hero's Edition of The Legend of Zelda: Breath of the Wild--Creating a Champion.

This deluxe slipcase edition features the royal blue worn by the Hylian Champion and includes the Creating a Champion art book with an exclusive cover, a map of Hyrule printed on cloth, an art print of the Champions' photo Link hangs in his Hateno home, and a beautiful glass replica of a spirit orb. Bring light back to Hyrule with the Hero's Edition!

The Creating a Champion art book is the ultimate companion to the award-winning video game The Legend of Zelda: Breath of the Wild and includes material from its DLC packs. Witness the making of a champion!

This book features:

* Nearly 50 pages of sketches and official illustrations from Takumi Wada

* 296 Pages of design artwork and commentary about the making of the game from creators

* 55 Page historical section that divulges an in-depth history of the Hyrule of Breath of the Wild.

* Interviews with key members of the development team including Hidemaro Fujibayashi, Satoru Takizawa, Takumi Wada, and Eiji Aonuma

Make sure to check out the other installments in this unparalleled collection of historical information on The Legend of Zelda franchise with the New York Times best selling The Legend of Zelda: Hyrule Historia, The Legend of Zelda: Art & Artifacts, and The Legend of Zelda: Encyclopedia which detail the first 30 years of this historic video game franchise!
About the Author
---
Nintendo is a Japanese video game company founded in 1985. The Nintendo Entertainment System (NES) is given credit for revolutionizing the home gaming experience. A few years later, the Gameboy and the Super Nintendo cemented Nintendo as one of the premier gaming companies in the world. With iconic characters such as Mario, Link, Luigi, Donkey Kong, and Kirby, Nintendo has solidified itself as a true force in video game community.
Download Audiobooks
We've partnered with Libro.fm to bring you a top-notch option for digital audiobooks. Take a look at our large catalog of recorded books at https://libro.fm/citylightsnc