Product Roadmaps Relaunched: How to Set Direction While Embracing Uncertainty (Paperback)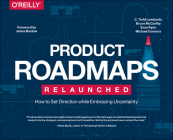 $44.99

No new copies on our shelves but maybe in used, now or arriving soon. Ask us.
Description
---
A good product roadmap is one of the most important and influential documents an organization can develop, publish, and continuously update. In fact, this one document can steer an entire organization when it comes to delivering on company strategy.
This practical guide teaches you how to create an effective product roadmap, and demonstrates how to use the roadmap to align stakeholders and prioritize ideas and requests. With it, you'll learn to communicate how your products will make your customers and organization successful.
Whether you're a product manager, product owner, business analyst, program manager, project manager, scrum master, lead developer, designer, development manager, entrepreneur, or business owner, this book will show you how to:
Articulate an inspiring vision and goals for your product
Prioritize ruthlessly and scientifically
Protect against pursuing seemingly good ideas without evaluation and prioritization
Ensure alignment with stakeholders
Inspire loyalty and over--delivery from your team
Get your sales team working with you instead of against you
Bring a user- and buyer--centric approach to planning and decision-making
Anticipate opportunities and stay ahead of the game
Publish a comprehensive roadmap without over-committing
About the Author
---
C. Todd Lombardo wears many hats, all at once: author, designer, scientist, professor, and visualizer. After beginning his career in science, C. Todd shifted his focus to product and design, ultimately innovating, designing, and managing products for countless companies large and small. In his role as Chief Design Strategist at Fresh Tilled Soil, he employs strategic thinking to craft smart, impactful solutions that radically transform clients' product strategies. C. Todd serves as Adjunct Faculty at IE business School in Madrid, where he teaches courses on design in business and data visualization.Bruce McCarthy is CEO of UpUp Labs and President of the Boston Product Management Association. Having spent a lifetime as a builder and innovator, Bruce has a passion for helping cross-functional product development teams work better together to deliver great products to market faster. Bruce is an internationally- recognized thought -leader and sought- after speaker on product roadmapping and prioritization. Bruce and his team work with companies such as Vistaprint, Localytics, Zipcar, Johnson & Johnson, and Huawei, ?providing coaching, mentoring, and tools such as R?eqqs?, the simple, affordable roadmapping tool, and Awesomeness, ?a tool for measurably enhancing team effectiveness.Evan is seasoned entrepreneur and product leader who has brought dozens of products from concept to market for both consumer and enterprise audiences. As a founder, his companies have served a diverse variety of organizations, from startups, to nonprofits, to Fortune 500 companies, including Apple, Deloitte, Chevron, Sonos, Stanfor?d University, and others.Currently, Evan operates as Director of Product for Wayfair where he leads find and navigation, working with a sophisticated personalization and machine learning initiative to anticipate customer needs and break the mold on the ecommerce experience. Prior to that Evan acted as Chief Product Officer for Boston based product design and build firm Fresh Tilled Soil where he drove both internal and external product development work. In addition, Evan extends his knowledge and learnings to others through speaking engagements, custom workshops, and as an adjunct professor where he teaches classes on product management and design thinking. He is also a startup mentor for two leading startup accelerator programs: TechStars Boston and MassChallenge. He recently co-authored his first book on product development for O'Reilly Media titled Product Roadmaps Relaunched: How to Set Direction While Embracing Uncertainty. For Evan, to build is to learn. He believes creating products and services is about solving mission-critical problems to make the world a better place, but just as important, an opportunity explore and experiment.Michael Connors is the Executive Creative Director of Fresh Tilled Soil, a Boston-based design firm. He primarily leads strategic design thinking sessions for projects of all sizes. Throughout his 25+ year design career, he has been a hands-on designer for a wide range of deliverables for digital and print products. He was formally trained as a fine artist with an MFA in Painting. He has been a design consultant for major universities for many years and has regularly taught design at the higher-ed level. He is currently Adjunct Faculty at IE Business School in Madrid, teaching workshops on design thinking.
Download Audiobooks
We've partnered with Libro.fm to bring you a top-notch option for digital audiobooks. Take a look at our large catalog of recorded books at https://libro.fm/citylightsnc