The Hare with Amber Eyes: A Hidden Inheritance (CD-Audio)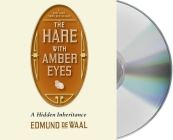 $52.89
Email or call for price.
Staff Reviews
---
In 2012 I read three older wonderful, quirky non-fiction books that shared a common element: despite not being memoir, each author's experience becomes intertwined with the story they're telling. In addition to The Immortal Life of Henrietta Lacks and Young Men and Fire, I thoroughly enjoyed The Hare with Amber Eyes by Edmund de Waal. It is a family history framed by a collection of netsuke (miniature carvings from Japan) which was assembled in belle epoch Paris by an ancestor of the author, and passed down to him through turns that illuminate the momentous events of the intervening years.
— Chris
Description
---
A New York Times Bestseller
An Economist Book of the Year
Costa Book Award Winner for Biography
Galaxy National Book Award Winner (New Writer of the Year Award)

Edmund de Waal is a world-famous ceramicist. Having spent thirty years making beautiful pots—which are then sold, collected, and handed on—he has a particular sense of the secret lives of objects. When he inherited a collection of 264 tiny Japanese wood and ivory carvings, called netsuke, he wanted to know who had touched and held them, and how the collection had managed to survive.

And so begins The Hare with Amber Eyes, this extraordinarily moving memoir and detective story as de Waal discovers both the origins of the netsuke and of his family, the Ephrussis, over five generations. A nineteenth-century banking dynasty in Paris and Vienna, the Ephrussis were as rich and respected as the Rothchilds. Yet by the end of the World War II, when the netsuke were hidden from the Nazis in Vienna, this collection of very small carvings was all that remained of their vast empire.

"To be handed a story as durable and exquisitely crafted as this is a rare pleasure. . . . This book is impossible to put down. You have in your hands a masterpiece." —The Sunday Times (London)

About the Author
---
Edmund de Waal is an artist who has exhibited in museums and galleries around the world. His bestselling memoir, The Hare with Amber Eyes, has won many prizes and has been translated into twenty-nine languages. The White Road, a journey into the history of porcelain, was published in 2015. He lives in London with his family.
Download Audiobooks
We've partnered with Libro.fm to bring you a top-notch option for digital audiobooks. Take a look at our large catalog of recorded books at https://libro.fm/citylightsnc