Blue Ridge Parkway Vistas: A Comprehensive Identification Guide to What You See from the Many Overlooks (Paperback)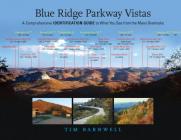 Description
---
Have you ever wondered what mountain peaks you were actually seeing as you enjoy the view from one of the many beautiful overlooks along the Blue Ridge Parkway? Are you curious how high those mountains are and how far away one is from the other? This book is designed to answer those questions and much more. It is a driving guide to the Parkway, featuring views from more than 40 overlooks along its 469-mile track through North Carolina and Virginia, with information about what you are viewing, and nearby attractions such as waterfalls, visitor centers, craft shops, and museums. Author and photographer Tim Barnwell identifies the mountain peaks you can see from each overlook, marking their compass heading, distance, and elevation. Major roads, rivers, lakes, and towns are also identified.
The book is easy to use: when you drive to a featured overlook, simply find the corresponding panoramic photograph made from that exact spot, and you will soon know the names of all the peaks you are admiring. Hikers will appreciate the book, too: it's great to be able to put a name to the mountain peaks you see from your favorite trail. In addition to the Parkway overlooks, the book also features numerous stunning views from popular attractions across western North Carolina, including the Biltmore Estate and Chimney Rock Park.
This unique guidebook, over five years in the making, touches on the history, geography, natural attractions, geology, and communities traversed by the Parkway, and provides everyone with a "bigger picture" of where they are and what is nearby that they might want to visit. Whether you are a local or a first time visitor, this beautiful book is sure to become a trusted traveling companion as you drive the winding majesty that is the Blue Ridge Parkway.

About the Author
---
Tim Barnwell is a photographer and author based in Asheville, North Carolina, and is one of the most published photographers in the South. He has been a principal or contributing photographer to dozens of books and is the author of eight of his own-The Face of Appalachia: Portraits from the Mountain Farm, On Earth's Furrowed Brow: The Appalachian Farm in Photographs, Hands in Harmony: Traditional Crafts and Music in Appalachia, Blue Ridge Parkway Vistas: A Comprehensive Identification Guide to What you See from the Many Overlooks, Great Smoky Mountains Vistas: A Guide, with Mountain Peak Identifications, for What To See and Do in and Around the National Park, Faces and Places of Cashiers Valley, Tide Runners: Shrimping and Fishing on the Carolinas and Georgia Coast, and Jewels of the Southern Coast: Architectural Gems of Charleston, Savannah and Beyond. He has provided principal photography for numerous other books, including Asheville: A View from the Top, Pisgah Forest and Nonconnah: The Potteries of Walter B. Stevens, Wladimir de Terlikowski: His Life and Art, and Frances Goodrich's Brown Book of Weaving Drafts (volumes 1 & 2). His images have appeared in dozens of magazines, including Time, Newsweek, Southern Accents, House Beautiful, American Craft, Outdoor Photographer, US Air, Mother Jones, Sky and Telescope, Blue Ridge Country, Billboard, U.S. News and World Report, Travel South, American Style, Smithsonian, Woodwork, Our State, Black & White Magazine, Smoky Mountain Living, Aperture, LensWork, Fiberarts, Astronomy, Parents, Ceramics Monthly, and National Parks. His career has spanned more than 30 years as a professional photographer and photography instructor, including eight years as Executive Director of the nationally recognized Appalachian Photographic Workshops (1981-1988). As director he designed, coordinated, and taught year-round workshops with staff and visiting master photographers including Cole Weston, Ernst Hass, George Tice, Galen Rowell, Freeman Patterson, Jerry Uelsmann, Robert Farber, John Shaw, Sonja Bullaty, Angelo Lomeo, Ken Marcus, John Sexton, Nancy Brown, Art Wolfe, Steve Krongard, E. Alan McGee, Dean Conger, and Carson Graves. Mr. Barnwell is known as a master photographer and printer. His fine art photography is widely collected and has been included in many group and one-man shows in the US and abroad. His images are in the permanent collections of the Metropolitan Museum, Mint Museum, New Orleans Museum of Art, High Museum of Art, Greenville (SC) County Museum of Art, Mint Museum, Asheville Art Museum, SOHO Photo Gallery, Newark Museum, the Bank of America corporate collection, and Booth Western Art Museum. His fine art photography is represented by Lumiere Gallery in Atlanta. He is an Honorary Member of the Southern Highlands Craft Guild and a member of Southern Independent Booksellers Alliance.
Praise For…
---
"During my tenure with the Blue Ridge Parkway, I encountered many folks who were interested in knowing about what they were viewing from the beautiful overlooks. This extensive reference answers those questions and much more, providing a wealth of information about the history, geology, natural attractions, popular tourist spots, and towns of the region. Tim Barnwell has combined his photography and writing skills to produce an outstanding book that will benefit all visitors to the Parkway. Whether they be first time, or repeat travelers, they will enjoy an added treat by using the information provided in this book. It would be an excellent choice for anyone curious about the Parkway and the mountain communities it traverses." -Gary Everhardt, Superintendent, Blue Ridge Parkway (1977-2000) & Director of National Park Service (1975-1977)

"A characteristic of the human condition is that all of us wish to know where we are in time and place. Mr. Barnwell's book satisfies this natural curiosity and brilliantly connects all of us with our surroundings. It provides a unique source of information with regard to the Blue Ridge Parkway's bountiful scenic views and cultural history. As a ready reference for Parkway views, this book will predictably become dog-eared and well-used." Dr. Houck Medford, Founder and CEO Emeritus, Blue Ridge Parkway Foundation



Download Audiobooks
We've partnered with Libro.fm to bring you a top-notch option for digital audiobooks. Take a look at our large catalog of recorded books at https://libro.fm/citylightsnc