TIDE RUNNERS: SHRIMPING AND FISHING ON THE CAROLINAS AND GEORGIA COAST (Hardcover)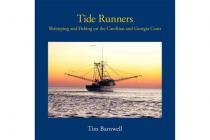 $34.95

We can probably get this title but the price is subject to change.
Description
---
Tide Runners: Shrimping and Fishing on the Carolinas and Georgia Coast, is the culmination of nine years of work by renowned photographer and author Tim Barnwell. Best known for his touching and evocative images of Appalachia, here he turns his keen eye and documentary talents to focus on the shrimping and fishing industries of the southeastern coast.
This exploration took him to the Outer Banks and seaside towns of North Carolina, dozens of seaboard locations in South Carolina and Georgia, and Fernandina Beach and St. Augustine, Florida, historic home of the shrimping industry in America.
Mr. Barnwell's exquisite color portrait and landscape photographs are combined with oral history interviews where subjects share family stories and describe their work routines and daily activities. This pairing of images and text reveal the hard work, dedication, and stamina of these independent folk and the beauty of their rugged way of life.
From before sunrise until after dark these men and women work, in all types of weather, through the seasons. Bound by the rhythms of the tides, they struggle to support themselves and their families while confronting financial hardship, market forces beyond their control, mechanical failures, and long hours under difficult and dangerous working conditions.
Over an eight-year period he made numerous trips to the area, visiting dozens of small communities. He went out on a variety of shrimping and fishing boats, spending time getting to know the boat captains, strikers on the back of the trawlers, dock workers, food processors, and restaurant employees.
Tide Runners offers an exciting, vibrant and substantive look at the shrimping and fishing industries operating along the southeastern coast and provides readers the chance to explore this unique and fading way of life, its depth and beauty revealed by photographer Tim Barnwell's masterful eye.

About the Author
---
Tim Barnwell is a photographer and author based in Asheville, North Carolina, and is one of the most published photographers in the South. He has been a principal or contributing photographer to dozens of books and is the author of eight of his own-The Face of Appalachia: Portraits from the Mountain Farm, On Earth's Furrowed Brow: The Appalachian Farm in Photographs, Hands in Harmony: Traditional Crafts and Music in Appalachia, Blue Ridge Parkway Vistas: A Comprehensive Identification Guide to What you See from the Many Overlooks, Great Smoky Mountains Vistas: A Guide, with Mountain Peak Identifications, for What To See and Do in and Around the National Park, Faces and Places of Cashiers Valley, Tide Runners: Shrimping and Fishing on the Carolinas and Georgia Coast, and Jewels of the Southern Coast: Architectural Gems of Charleston, Savannah and Beyond. He has provided principal photography for numerous other books, including Asheville: A View from the Top, Pisgah Forest and Nonconnah: The Potteries of Walter B. Stevens, Wladimir de Terlikowski: His Life and Art, and Frances Goodrich's Brown Book of Weaving Drafts (volumes 1 & 2). His images have appeared in dozens of magazines, including Time, Newsweek, Southern Accents, House Beautiful, American Craft, Outdoor Photographer, US Air, Mother Jones, Sky and Telescope, Blue Ridge Country, Billboard, U.S. News and World Report, Travel South, American Style, Smithsonian, Woodwork, Our State, Black & White Magazine, Smoky Mountain Living, Aperture, LensWork, Fiberarts, Astronomy, Parents, Ceramics Monthly, and National Parks. His career has spanned more than 30 years as a professional photographer and photography instructor, including eight years as Executive Director of the nationally recognized Appalachian Photographic Workshops (1981-1988). As director he designed, coordinated, and taught year-round workshops with staff and visiting master photographers including Cole Weston, Ernst Hass, George Tice, Galen Rowell, Freeman Patterson, Jerry Uelsmann, Robert Farber, John Shaw, Sonja Bullaty, Angelo Lomeo, Ken Marcus, John Sexton, Nancy Brown, Art Wolfe, Steve Krongard, E. Alan McGee, Dean Conger, and Carson Graves. Mr. Barnwell is known as a master photographer and printer. His fine art photography is widely collected and has been included in many group and one-man shows in the US and abroad. His images are in the permanent collections of the Metropolitan Museum, Mint Museum, New Orleans Museum of Art, High Museum of Art, Greenville (SC) County Museum of Art, Mint Museum, Asheville Art Museum, SOHO Photo Gallery, Newark Museum, the Bank of America corporate collection, and Booth Western Art Museum. His fine art photography is represented by Lumiere Gallery in Atlanta. He is an Honorary Member of the Southern Highlands Craft Guild and a member of Southern Independent Booksellers Alliance.
Download Audiobooks
We've partnered with Libro.fm to bring you a top-notch option for digital audiobooks. Take a look at our large catalog of recorded books at https://libro.fm/citylightsnc