You Get Me: Simple, Romantic Ways to Speak the 5 Love Languages (Paperback)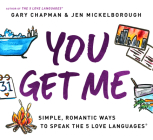 $9.99

No new copies on our shelves but maybe in used, now or arriving soon. Ask us.
Description
---
Love Your Loved One in the Ways That Mean the Most
Knowing your significant other's love language is the first step to communicating love—but ideas for how to communicate don't always come easily. While your love is unquestionable, are you expressing it in ways that are meaningful to your loved one?
In You Get Me by Jen Mickelborough and Dr. Gary Chapman, author of The 5 Love Languages®, you'll find simple, practical ideas for how to infuse your relationship with excitement, joy, and intimacy as you care for your beloved in the ways that mean the most to him or her. From planning spontaneous dinners to warm embraces, from creating thoughtful playlists to picking out the perfect gift, learn ways to communicate your love in every love language.
Don't let a lack of ideas limit your best intentions. Discover how these simple, everyday expressions of love can become fundamental to establishing understanding and connection within your relationship.
About the Author
---
GARY CHAPMAN--author, speaker, counselor--has a passion for people and for helping them form lasting relationships. He is the #1 bestselling author of The 5 Love Languages series and director of Marriage and Family Life Consultants, Inc. Gary travels the world presenting seminars, and his radio programs air on more than 400 stations. For more information visit his website at www.5lovelanguages.com.

JEN MICKELBOROUGH is a British artist, creating from her garden studio in Sheffield, England. Her work resonates with color as she explores the beauty of nature and everyday wonder. Jen has been married to her husband Fran for 17 years and they have two children. For more information, visit jenmick.com.
Download Audiobooks
We've partnered with Libro.fm to bring you a top-notch option for digital audiobooks. Take a look at our large catalog of recorded books at https://libro.fm/citylightsnc