National Geographic Milky Way Wall Map - Laminated (31.25 X 20.25 In) (National Geographic Reference Map) (Not Folded)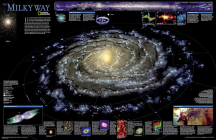 $29.95

No new copies on our shelves but maybe in used, now or arriving soon. Ask us.
Description
---
This computer-generated image of the Milky Way shows the entire galaxy in one perspective of a 3-D model compiled specially for National Geographic. The model incorporates the positions of hundreds of thousands of stars and nebulae within the galaxy, shows Earth's location, and includes additional photographs, descriptions and locations of fascinating phenomena throughout the Milky Way.
The map is encapsulated in heavy-duty 1.6 mil laminate which makes the paper much more durable and resistant to the swelling and shrinking caused by changes in humidity. Laminated maps can be framed without the need for glass, so the frames can be much lighter and less expensive.
Sheet Size = 31.25" x 20.25"
Download Audiobooks
We've partnered with Libro.fm to bring you a top-notch option for digital audiobooks. Take a look at our large catalog of recorded books at https://libro.fm/citylightsnc