National Geographic Solar System Wall Map - Laminated (24.25 X 18.25 In) (National Geographic Reference Map) (Not Folded)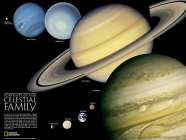 $24.95

We can probably get this title but the price is subject to change.
Description
---
The Solar System, Our Sun's Family, has two sides. The first side includes a description of how our solar system was formed, and shows a map of our solar system, with each planet's orbit in relation to the Sun and to the other planets. Interesting facts and figures accompany each planet's description. Side two is a stunning poster that shows images of each planet.
The map is encapsulated in heavy-duty 1.6 mil laminate which makes the paper much more durable and resistant to the swelling and shrinking caused by changes in humidity. Laminated maps can be framed without the need for glass, so the frames can be much lighter and less expensive.
Sheet Size = 24.25" x 18.25"
Download Audiobooks
We've partnered with Libro.fm to bring you a top-notch option for digital audiobooks. Take a look at our large catalog of recorded books at https://libro.fm/citylightsnc