My Great-Aunt Arizona (Prebound)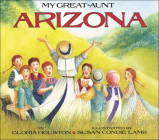 $21.62

We can probably get this title but the price is subject to change.
Description
---
Arizona was born in a log cabin her papa built. She grew into a tall girl who liked to sing, square-dance, and -- most of all -- read and dream of the faraway places she would visit one day.
Arizona never did make it to those places. Instead she became a teacher, helping generations of children in the one-room schoolhouse which she herself had attended. Gloria Houston's Joyous recounting of her great-aunt Arizona's quiet yet meaningful life reminds us of the magical place a special teacher can hold in our hearts.
Download Audiobooks
We've partnered with Libro.fm to bring you a top-notch option for digital audiobooks. Take a look at our large catalog of recorded books at https://libro.fm/citylightsnc