Jessie's Mountain (Hardcover)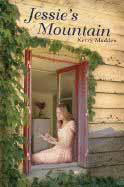 Email or call for price
Out of Stock Indefinitely: used copies probably available. Ask us.
Description
---
Livy Two has always dreamed of becoming a singer, and her decision to run off to Nashville?s Music Row is made with confidence?she figures the money she?ll bring home will buy the family?s house as well as forgiveness for running away. The Nashville adventure is a disaster, though; even her cherished guitar is stolen. Livy Two takes her failure hard, but finds comfort in the girlhood diary of her mother, Jessie. Outraged to discover that young Jessie had dreams now long-forgotten, Livy Two puts the whole family to work and makes Mama?s ultimate dream come true.
Jessie?s Mountain concludes the captivating three-book saga of Livy Two and her mountain family, the Weems of Maggie Valley, North Carolina.


About the Author
---
Kerry Madden has written plays, journalism (Los Angeles Times, Salon, Five Points: A Journal of Literature and Art, and Sierra Club Magazine), and six books including Offsides, a New York Library Pick for 1997, and Writing Smarts, a guide to creative writing published by American Girl. In 2005 she turned her hand to children's literature with Gentle's Holler, the first installment in what became the award-winning Maggie Valley Trilogy, Viking Children's Books. It earned starred reviews in both Kirkus and Publisher's Weekly, was named a "Pick" by both the New York and the Chicago Public Libraries, and was the featured children's book of North Carolina at the National Book Festival. The next book in the trilogy, Louisiana's Song (2007) was equally well received, being named a Bank Street College Book of the Year and a finalist for several other awards. The third installment, Jessie's Mountain, was published in 2008 to strong reviews. Most recently Madden published UpClose Harper Lee as part of Viking's UpClose Series and received a starred Kirkus for this biography. She has taught at the University of Tennessee, Ningbo University in China, UCLA, and elsewhere, and has visited schools across the country as a guest author. She has just accepted a new job at the University of Alabama in Birmingham as a professor of Creative Writing beginning the fall of 2009.
Download Audiobooks
We've partnered with Libro.fm to bring you a top-notch option for digital audiobooks. Take a look at our large catalog of recorded books at https://libro.fm/citylightsnc