Jumanji 30th Anniversary Edition: A Caldecott Award Winner (Hardcover)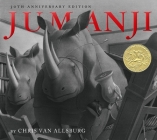 $18.99

No new copies on our shelves but maybe in used, now or arriving soon. Ask us.
Description
---
Roll the dice, make your move, and plunge into one of the most imaginative stories of our time!
The game under the tree looked like a hundred others Peters and Judy had at home. But they were searching for something interesting to do, so they decided to give Jumanji a try. Little did they know when they unfolded its ordinary-looking playing board that they were about to be launched into the most exciting and bizarre adventure of their lives...
This picture book classic from Chris Van Allsburg has been honored with many awards, including the Caldecott Medal. The surreal story also became the basis of multiple blockbuster film adaptations.
This story about a game that comes startlingly to life is a family favorite that inspires imagination and explores the ever-shifting line between fantasy and reality.
About the Author
---
Chris Van Allsburg is one of America's most innovative picture book creators. He is perhaps best known for the contemporary classic The Polar Express, which received the Caldecott Medal in 1985 and was made into a blockbuster movie starring Tom Hanks. He also received the Caldecott Medal for Jumanji, which was made into a popular feature film in 1996 and again in 2017. He also received a Caldecott Honor for his very first book, The Garden of Abdul Gasazi. He has received the Regina Medal for lifetime achievement in children's literature, a National Book Award, and a Society of Illustrators Lifetime Achievement Award, among other honors. He lives outside of Boston, Massachusetts. Visit him at chrisvanallsburg.com. 
Praise For…
---
"Mr. Van Allsburg's illustrations have a beautiful simplicity of design, balance, texture, and a subtle intelligence beyond the call of illustration." The New York Times —
Download Audiobooks
We've partnered with Libro.fm to bring you a top-notch option for digital audiobooks. Take a look at our large catalog of recorded books at https://libro.fm/citylightsnc