Jackrabbit McCabe and the Electric Telegraph (Hardcover)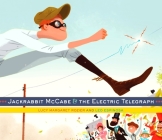 $17.99
We can probably get this title but the price is subject to change.
Description
---
The fastest man in the West meets his match in this deliciously clever original tall tale. With his extra-long legs, Jackrabbit McCabe can outrun anything on the American frontier: horses, trains, and even twisters. So of course, everyone in the town of Windy Flats always counts on his speed when a message has to get out fast. Then something new comes to town: the telegraph, which can send Morse code messages with the speed of electricity. At first, no one believes the newfangled contraption can deliver a message quicker than Jackrabbit. . . . But in a race between man and machine, who will be left in the dust?
 
An author's note includes information about the invention of the telegraph, a Morse code key, and a riddle written in Morse code for kids to transcribe.

"A strikingly accomplished debut.... A terrific tall tale about the costs and opportunities of technology." —Publishers Weekly, Starred

"Good, quick-moving fun. Kids may marvel that communication existed before the telephone and Internet." —Kirkus Reviews
About the Author
---
Lucy Margaret Rozier makes her picture-book debut with Jackrabbit McCabe and the Electric Telegraph. She grew up folk dancing and drawing in North Carolina and worked for many years as a fine artist and a commercial artist in the Boston area. She has two grown daughters and lives in her native North Carolina with her husband and their dog, Rosie.
 
Leo Espinosa's illustrations have graced the pages of the New Yorker, Wired, Esquire, and the New York Times, among many other publications. He is also a commercial artist whose work can be seen on toys, games, stationery, and clothing. Originally from Bogotá, Colombia, he lives with his family in Salt Lake City. Learn more at studioespinosa.com.
Praise For…
---
"Rozier makes a strikingly accomplished debut; her appropriately brisk prose has the perfect blend of folksy lilt and knowing wink. Espinosa is just as successful: his crisply angular drawings, comic expressiveness, and cinematic framings bring to mind Chuck Jones's classic 'Dover Boys' cartoon. It's a terrific tall tale about the costs and opportunities of technology, and it may assuage a few parents worried about its impact on their own offspring's future employability" —Publishers Weekly, Starred

"Readers will find that the story, written in folksy terms and rhythms, clips along at a fast pace, and the fittingly retro illustrations are filled with action, energy, and good humor. Occasional changes in typeface and size add to the excitement of the telling. The backmatter includes a helpful historical author's note, a Morse code key, and a riddle in Morse code for readers to solve. Good, quick-moving fun. Kids may marvel that communication existed before the telephone and Internet." —Kirkus Reviews

"In the tall-tale tradition of John Henry, McCabe engages in a man-versus-machine competition by trying to deliver a message more quickly than it can be sent by telegraph. The telegram arrives before McCabe, but this original story still ends happily. McCabe's speedy fingers are adept with Morse code, leading to a perfect job as a telegraph operator. Using Photoshop and pencil, Espinosa creates colorful, dynamic images that burst from the page. An imaginative book design includes McCabe leaping across a two-page spread, or multiple smaller images showing rapid motion, communicating action and speed throughout." —Booklist
Download Audiobooks
We've partnered with Libro.fm to bring you a top-notch option for digital audiobooks. Take a look at our large catalog of recorded books at https://libro.fm/citylightsnc