Search for books & e-books right here!
The Moonflower (Paperback)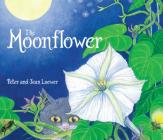 Description
---
At a time when most children have been tucked into their beds on a warm summer evening, nighttime springs to life. Written in lyrical language that weaves its tale like a moonflower vine, "The Moonflower" brings an often unseen world to light for budding young naturalists. Full color.

Download Audiobooks
We've partnered with Libro.fm to bring you a top-notch option for digital audiobooks. Take a look at our large catalog of recorded books at https://libro.fm/citylightsnc