Search for books & e-books right here!
Wherever Waters Flow: A Lifelong Love Affair with Wild Rivers (Hardcover)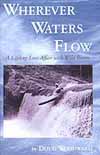 $26.95
We can probably get this title, but there may be extra shipping.
Description
---
From naive adventures in a wooden canoe in the 1950's to introducing Jimmy Carter to kayaking and the wild scenic beauty of the Chattooga River; from family adventures on remote arctic rivers to advising and stunt work for the film Deliverance, Doug Woodward's Wherever Water Flows is an entertaining and well documented collection of stories from a lifetime of paddling comradery.
Praise For…
---
"The text and photos look great!"

— Jimmy Carter, whitewater paddler, author, 39th President of the United States.

~



"Wherever Waters Flow…is a flood-stage read with few eddies."

— John Lane, author of Chattooga: Descending Into the Myth of Deliverance River
Download Audiobooks
We've partnered with Libro.fm to bring you a top-notch option for digital audiobooks. Take a look at our large catalog of recorded books at https://libro.fm/citylightsnc