Search for books & e-books right here!
Over in the Meadow (Paperback)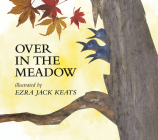 Description
---
Welcome to a lush meadow bustling with activity, where one turtle digs, two fish swim, three bluebirds sing, and so on to ten fireflies that shine in the night. Keats's collage-style illustrations perfectly complement this classic Appalachian counting rhyme, which is also a popular song for toddlers.
About the Author
---
Ezra Jack Keats (1916-1983) is the Caldecott Medal winning author of The Snowy Day, which broke ground in 1962 as one of the first picture books for young children to portray a realistic, multi-cultural urban setting. Since its initial publication, The Snowy Day has come to be regarded as both a children's classic and one of the most important picture books ever written/illustrated. Ezra Jack Keats' legacy lives on in the popularity of his most famous character, Peter--the star of The Snowy Day, Whistle for Willie, Peter's Chair, A Letter to Amy, Goggles, and others. Visit the Ezra Jack Keats Foundation online at www.ezra-jack-keats.org
Download Audiobooks
We've partnered with Libro.fm to bring you a top-notch option for digital audiobooks. Take a look at our large catalog of recorded books at https://libro.fm/citylightsnc